Two weeks ago we announced the first round of our competition for UserBase. We are happy to announce the winner: Nikita Lyalin! Congratulations and thank you for helping improve UserBase.
As we will be releasing Amarok 2.1 soon the next two weeks will be all about improving the Amarok page on UserBase to make it ready for the next release. It currently does not contain up-to-date information and should be updated to actually reflect the state of Amarok 2.1 and not mix in Amarok 1.4 features. The winner gets a beer at Akademy or another event where we meet. Everyone is welcome to help. If you have questions please ask in #amarok on freenode or on our mailinglist amarok@kde.org.
Oh and here two more pictures by Leo from the Amarok developer sprint at KDAB:
Who can spot the 4 bad-ass KDE developers on the first photo?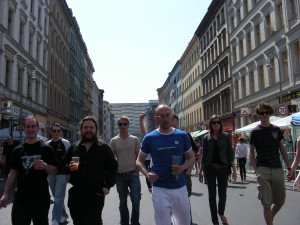 Aren't we a clever and good looking bunch? 😛
Rock on!