As you might have noticed from other blogs on PlanetKDE the KDE promo people have been quite the busy bees this weekend in Stuttgart. Getting together with great people, getting stuff done, having good beer and food -> great sprint. And of course a sprint with Jos and me has to include at least one proper group hug 😀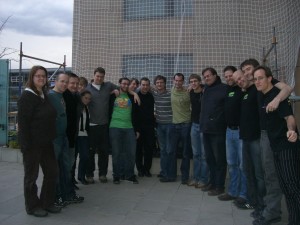 (fltr: Valerie, Kenny, Martin, Claudia, me, Rainer, Justin, Jos, Eckhart, Ingo, Stuart, Daniel, Luca, Cornelius, Frank, Troy, Frederik)
It was a great weekend which got us a lot further to the 4.4 release announcement, the rebranding of KDE, a new KDE booklet to give out at events, a redesign of www.kde.org and more. It is amazing what you can get done if you get the right people together for 3 days.
Most important for me though was finally getting to know Ingo, Stuart and Luca. It was their first KDE meeting. I hope we introduced them properly (including group hugs and old stories about KDE) 😀 It feels good to know that that part of the forum team got even closer to our community now after doing an incredible job for a while already.
Getting feedback on stuff like the rebranding discussion or the move to Git from the people who helped start KDE was very valuable. We should definitely make sure to keep this connection as long as possible. A simple "been there – done that – it was an incredibly stupid idea" can save everyone from quite some headache and bike shedding.
I miss you all already… Damn.
But the promo people were not the only busy bees. No the Amarokers decided it is time to release 2.2.1. It includes improvements to podcasts, collection scanning, automatic script updating and much more. Read the release notes and download it. Of course don't forget it is Rokvember 😉