I've been hanging around in KDE's sysadmin IRC channel for a while now and you know what's the best thing about scanning the backlog every day? You get to see whenever a new developer gets added to the committers list, making him/her able to commit to (nearly) every bit of the codebase. That's really really awesome. And while watching this Tom, Eike and I thought that while we're creating a lot of accounts it seems to have increased a lot in the last weeks. Since we wanted to be sure Tom and Eike ran some stats. And tada – here's the result: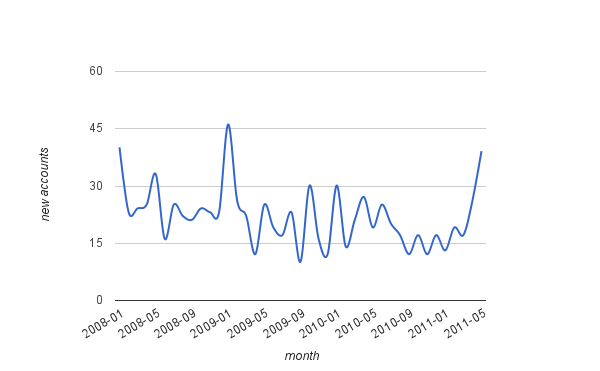 That's the new accounts created for KDE's SVN and git repositories since January 2008. As you can see our feeling was right. Last month 39 new accounts were created. That's more than 1 account per day! That means more than 1 new developer per day. Pretty amazing if you ask me.
Hats off to KDE for being able to attract so many talented new people and for being able to integrate them in the community.
PS: Policies on when an account request is granted have not changed in that time.